Audi A4: Messages
Text messages
Applies to: vehicles with telephone
Requirement: your mobile device must be connected to the MMI via Bluetooth Message Access Profile (Bluetooth MAP).
Applies to: MMI: Select on the home screen: MESSAGES > () > e-mail (phone 1)/e-mail (phone 2)*.
The following functions are available:
New e-mail
Inbox
Sent
Outbox
Drafts*
Deleted*
User defined*
If necessary, user-defined folders will be copied to your mobile device.
Message options
Press on an e-mail.
Depending on the country, the following options may be available:
Read out
Reply
Reply all
Forward
More
To switch between messages, press < or >.
Press More. Depending on your mobile device and the selected mailbox, additional options may be available:
Call
Forward
Extract e-mail
Navigate
Extract numbers
Show all recipients
Send again
Settings
Press

.
New e-mail notification
When the function is switched on, an envelope

in the MMI status bar will indicate when there is a new e-mail.
Note
Read the information about Audi connect, and be sure to note the connectivity costs section.
Troubleshooting
Applies to: vehicles with telephone
The information that follows lists some troubleshooting options. They depend on the equipment.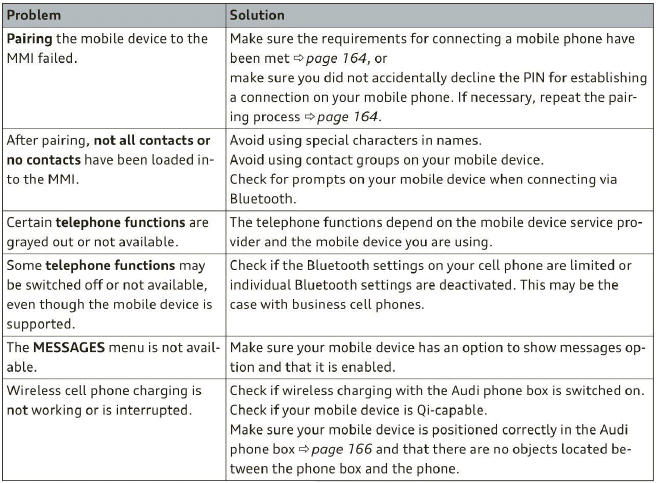 READ NEXT:
Applies to: vehicles with Audi connect Depending on the country and the vehicle equipment, the following functions may be available: Audi connect Infotainment Audi connect vehicle control WARNING
Configuration Applies to: vehicles with Audi connect Infotainment Some Audi connect Infotainment services must be configured through your personal myAudi account at my.audi.com before using them for
SEE MORE:
General Information Note Connect the Air Conditioning (A/C) service station. Refer to → Chapter "A/C Service Station, Connecting". Observe the test requirements. Refer to → Chapter "Pressures, Checking". If a malfunction occurs at only one evaporator in vehicles with two
Fig. 162 Engine compartment: connectors for a charger or jump start cables Observe the safety precautions > General information, in Battery general information. Requirement: only use chargers with a maximum charging current of 14.8 volts. The battery cables remain connected. The charging cable c