Audi A4: Vision
Adjusting exterior mirrors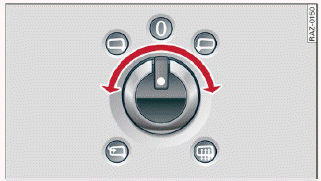 Fig. 48 Driver's door: knob for the exterior mirrors
Turn the knob in the driver's door to the desired position:
0 - Deactivates all adjustment functions.

- Selects the left or right exterior mirror.
To adjust the mirror glass in a mirror, press the knob in the desired direction.

- Heats the mirror glass depending on the outside temperature.

- Folds the exterior mirrors*. To fold the mirrors out, turn the knob to one of the other positions.
In the MMI, you can select if the mirrors fold in automatically when you lock the vehicle.
Front passenger's exterior mirror tilt function*
Requirement: the knob must be in the position for the front passenger's exterior mirror.
The mirror surfaces tilt slightly when reverse gear is selected to provide a better view, for example of the edge of the curb.
You can adjust the mirror surface by turning the knob in the desired direction.
The mirror moves from the reversing position back to the original position:
When you switch the ignition off
When you drive forward at speeds faster than 9 mph (15 km/h).
When the knob is no longer in the position for the front passenger exterior mirror
WARNING
Curved mirror surfaces (for example convex) enlarge the field of vision. However, they make objects in the mirror appear smaller and farther away. When using these mirrors to estimate your distance to vehicles behind you when changing lanes, you could estimate incorrectly, which increases the risk of an accident.
Note
Tips
If the power adjusting function malfunctions, the glass in both mirrors can be adjusted by pressing on the edge of it by hand.
Dimming the mirrors
Manual dimming rearview mirror
Pull the lever on the bottom of the mirror back.
Automatic dimming rearview mirror
Applies to: vehicles with automatic dimming mirrors
The interior and exterior mirrors dim automatically when light shines on them, for example from headlights on a vehicle behind you.
WARNING
Applies to: vehicles with automatic dimming mirrors
Note
Applies to: vehicles with automatic dimming mirrors
Electrolyte fluid can leak out from broken mirror glass. This liquid damages plastic surfaces and paint. Clean this liquid as quickly as possible, for example with a wet sponge.
Tips
Applies to: vehicles with automatic dimming mirrors
If the light reaching the rearview mirror is obstructed, the automatic dimming mirror will not function correctly,
The automatic dimming mirrors do not dim when the interior lighting is turned on or the reverse gear is selected.
Sun visors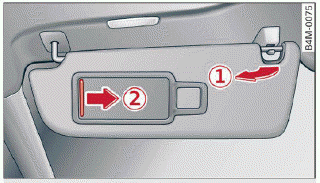 Fig. 49 Roof headliner: sun visor
Sun visor
The sun visors can be moved out of their brackets and turned toward the doors (1).
They can also be moved back and forth lengthwise in this position.
Vanity mirror
The mirror lighting* switches on when the cover over the vanity mirror (2) opens.
Sunshade
Applies to: vehicles with sunshade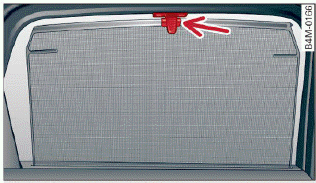 Fig. 50 Rear door: sunshade
Rear door sunshade
Pull the sunshade out and attach it to the retainer on the upper door frame > fig. 50.
READ NEXT:
Switching the windshield wipers on Fig. 51 Lever: windshield wipers Fig. 52 Lever: rear window wiper (allroad) Move the lever to the corresponding position: (0) Windshield wipers off (1) Rain sens
Switching the compass on and off Applies to: vehicles with digital compass Fig. 55 Rearview mirror: digital compass is switched on To turn the compass on or off, press the button (1) until the com
SEE MORE:
Fig. 98 Front cup holder: removing the cover Fig. 99 Front cup holder: parking lock emergency release The emergency release is located in the front cup holder under a cover. You will need the screwdriver and the socket wrench from the vehicle tool kit in order to release. Use the flat side of the
Overview - Windshield 1 - Windshield Removing and installing. Refer to → Chapter "Windshield, Removing and Installing". Distance to roof: Dimension -c- = 2.5 mm Distance to A-pillars: Dimension -e- = greater than 3 mm; center if necessary 2 - Adhesive Bead Observe