Audi A4: Exit warning
Description
Applies to: vehicles with exit warning system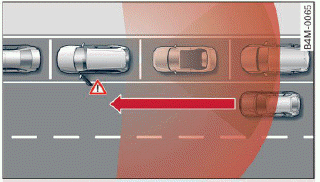 Fig. 122 Approaching traffic detected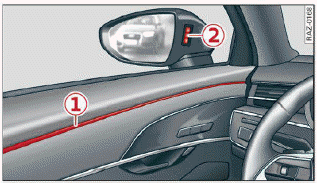 Fig. 123 Front door: exit warning
General information
Within system limits, the exit warning system can detect traffic approaching from behind such as vehicles, and provide assistance based on this information when you are exiting the vehicle => fig. 122. The system uses the data from the radar sensors at the rear corners of the vehicle.
Displays and warnings
If a door is opened while the vehicle is stationary, the warning strip (1) on that door and the display (2) on that side of the vehicle will blink if another road user is detected in a critical situation. If another road user that is classified as critical is approaching while a door is already open, the displays on that door will turn on.
The same messages apply for the exit warning system and side assist.
WARNING
Tips
The exit warning is switched on or off by the side assist warning.
The exit warning system can be available for up to approximately three minutes after unlocking the vehicle and opening the door as well as after switching off the ignition. Then the displays flash briefly and the system switches off.
The display brightness for the exit warning system cannot be adjusted.
The coverage areas of the sensors > fig. 122 are diagrams and do not represent a true-to- scale image of the sensor ranges.
The system complies with United States FCC regulations and ISED regulations.
READ NEXT:
Depending on the vehicle equipment, various parking aids will help you when parking and maneuvering. Parking aid The parking aid plus assists you while parking using audio and visual signals to warn y
Activating and deactivating Applies to: vehicles with parking aid plus Fig. 124 Center console: parking aid button General information The parking aid assists when parking and maneuvering by providin
SEE MORE:
General information Make sure that: The distance between your upper body and the steering wheel is at least 10 inches (25 cm) Your arms are bent slightly at the elbows You have a sufficient view of the area around the vehicle and you have a clear view of the instrument cluster and head-up dis
1 - Wheel Bearing Housing Side Bonded Rubber Bushing Replacing. Refer to → Chapter "Control Arm Ball Bearing, Replacing, Wheel Bearing Housing Side". 2 - Bolt Replace after removing 3 - Subframe Side Bonded Rubber Bushing Replacing. Refer to →