Audi A4: Head-up display
Description
Applies to: vehicles with head-up display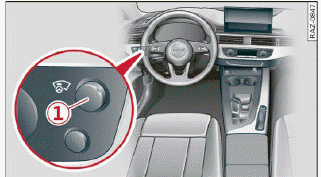 Fig. 19 Instrument panel: knob for the head-up display
The head-up display projects certain warnings or selected information from the assist systems on the windshield. The display appears within the driver's field of vision.
Switching on and off
To switch the head-up display on, press the knob (1).
To switch the head-up display off, press the knob.
Adjusting the height
The height of the display can be adjusted to the individual driver.
Make sure you are seated correctly.
Turn the knob to the right or Left.
Settings in the Infotainment system
Applies to: MMI: Select on the home screen: SETTINGS > Display & brightness > Head-up display.
Possible settings:
Display rotation
Brightness
Display contents: you can set which information should be displayed. Some information and warnings cannot be hidden.
Note
To reduce the risk of scratches on the glass covering the head-up display, do not place any objects in the projection opening.
Tips
Sunglasses with polarization filters and unfavorable lighting conditions can impair visibility of the display.
An optimal display depends on the seat position and the height adjustment of the head-up display.
A special windshield is needed for the head-up display function.
For information on cleaning, see > table /Interior cleaning.
READ NEXT:
General information Applies to: vehicles with voice recognition system You can operate many functions in the vehicle easily using voice commands. Using the voice recognition system optimally Speak c
Additional function buttons Fig. 21 Right side of the multifunction steering wheel Fig. 22 MMI On/Off knob with joystick function Adjusting the volume You can adjust the volume of an audio source or
SEE MORE:
Reinstall any covers on the wheel bolts that were removed. Store the vehicle tool kit in its designated place. If the removed wheel does not fit in the spare wheel well, store it securely in the luggage compartment. Check the tire pressure on the installed wheel as soon as possible. Corre
Fig. 16 Center display: frequently used symbols in the status bar The symbols in the status bar show you information at a glance, such as ifa mobile device is connected or if there is a data connection. The most common symbols are listed in the table. There is a data connection. The bar indicates