Audi A4: Raising the vehicle
Applies to: vehicles with vehicle jack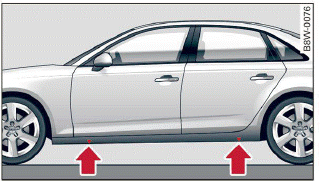 Fig. 174 Sill panels: markings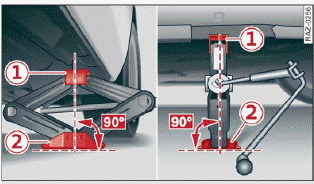 Fig. 175 Sill: positioning the vehicle jack
WARNING
To reduce the risk of injury, make sure no one is in the vehicle before raising it.
Make sure the vehicle jack is stable. The risk of injury is increased when the ground is slippery or soft, because the vehicle jack could slide or sink.
Only raise your vehicle with the vehicle jack provided by the factory. If you use a vehicle jack designed for another vehicle, your vehicle could slip and cause injury.
Position the vehicle jack only at the designated mounting points on the side sill and align the jack. Otherwise, the vehicle jack could slip and cause an injury if it does not have sufficient hold on the vehicle.
To reduce the risk of injury, do not raise any other vehicles or other loads using the vehicle jack provided by the factory.
To reduce the risk of an accident, never start the engine when the vehicle is raised.
To reduce the risk of injury, no work should be performed under the vehicle while it is raised.
Note
Do not lift the vehicle by the sill. Position the vehicle jack only at the designated mounting points on the side sill. Otherwise, your vehicle could be damaged.
Removing and installing a wheel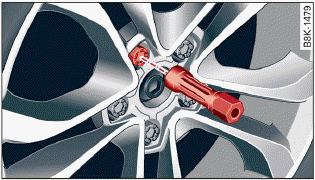 Fig. 176 Wheel: internal hex socket to turn the wheel bolts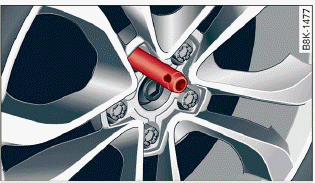 Fig. 177 Wheel: alignment pin in the top hole
Removing a wheel
Remove the top wheel bolt completely using the hex socket in the screwdriver handle from the vehicle tool kit > fig. 176 and place it on a clean surface.
Then install the alignment pin from the vehicle tool kit in the empty wheel bolt hole by hand > fig. 177.
Remove the rest of the wheel bolts.
Remove the wheel . The alignment pin remains in the hole while doing this.
Installing a wheel
Read the directions on when installing unidirectional tires.
Slide the wheel on over the alignment pin .
Install the wheel bolts and tighten them gently using the hex socket.
Remove the alignment pin and tighten the remaining wheel bolt.
Carefully lower the vehicle using the vehicle jack*.
Tighten the wheel bolts in a diagonal pattern using the wheel wrench*.
The wheel bolts must be clean and loosen and tighten easily. Check the contact surfaces for the wheel and hub. Contaminants on these surfaces must be removed before installing the wheel.
WARNING
Note
When removing or installing the wheel, the rim could hit the brake rotor and damage the rotor. Work carefully and have a second person help you.
Unidirectional tires
A unidirectional tire profile is identified by arrows on the tire sidewall that point in the running direction.
You must always maintain the specified running direction. This is necessary to ensure the tire's optimal performance in regard to adhesion, running noise, and friction, and to reduce the risk of hydroplaning.
To benefit fully from the advantages of the unidirectional tire design, you should replace faulty tires as soon as possible and restore the correct running direction on all of the tires.
READ NEXT:
Reinstall any covers on the wheel bolts that were removed. Store the vehicle tool kit in its designated place. If the removed wheel does not fit in the spare wheel well, store it securely in th
Preparation You should only perform the steps that follow if you have the necessary tools and technical expertise. If the engine does not start because the vehicle battery is drained, you can jump sta
General information You should only perform the steps that follow if you have the necessary tools and technical expertise. Towing requires a certain amount of practice. Audi recommends contacting a t
SEE MORE:
Note The wheel bearing and wheel hub are currently only delivered together. As soon as these components are delivered separately, the following instructions will apply. Special tools and workshop equipment required Press Plate -VW401- Press Plate -VW402- Press Piece - Multiple Use -VW4
Overview - Window Regulator 1 - Nut 7.5 Nm 2 - Window Regulator Removing and installing. Refer to → Chapter "Window Regulator, Removing and Installing". 3 - Nut 7.5 Nm 4 - Cap 5 - Door 6 - Rubber Boot For the door cont