Audi A4: Belt Fastening Detection
Front Passenger Occupant Detection Sensor -G128-, Removing and Installing

Note
The passenger occupant detection sensor is only installed in the front passenger seat.
Removing
- Unscrew the front passenger seat and tip to the rear with the wires attached. Refer to → Chapter "Front Seat, Removing and Installing".
- Disconnect the connector -2- for the passenger occupant detection sensor.
- Unclip the mount -1- from the seat pan -arrows- and remove the passenger occupant detection sensor -3-.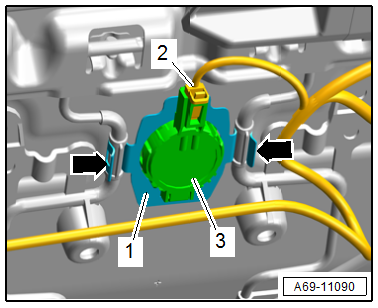 Installing
Install in reverse order of removal and note the following:

Note
Make sure the connectors are pushed in all the way and that they engage audibly.
If the Airbag Indicator Lamp -K75- indicates a fault after installing, check the DTC memory, erase it and check it again using the Vehicle Diagnostic Tester.
Installation instructions: For example tightening specifications, replacing components. Refer to → Chapter "Overview - Seat Position Sensor".
READ NEXT:
Overview - Pedestrian Protection 1 - Driver Side Pedestrian Protection Crash Sensor 2 -G851-/Front Passenger Side Pedestrian Protection Crash Sensor 2 -G852- Unit with pressure hose Com
Overview - Front Door Trim Panel 1 - Pull Handle with Armrest Removing and installing. Refer to → Chapter "Front Pull Handle, Removing and Installing". 2 - Switch Mount
SEE MORE:
Removing WARNING There is a risk of an accident from the vehicle starting to roll. Pull the parking brake button to activate the electro-mechanical parking brake. - Remove the selector mechanism. Refer to → Chapter "Selector Mechanism, Removing and Installing". - Remove
The condenser conducts heat from compressed refrigerant gas to the ambient air. This condenses the refrigerant gas to fluid. Note Depending on the version of the refrigerant circuit, the receiver/dryer is installed (integrated) either on the condenser or inside the condenser. Refer to