Audi A4: Charging the 12 volt vehicle battery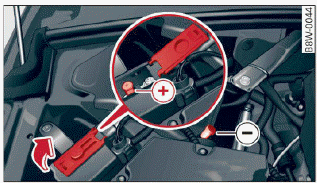 Fig. 162 Engine compartment: connectors for a charger or jump start cables
Observe the safety precautions > General information, in Battery general information.
Requirement: only use chargers with a maximum charging current of 14.8 volts. The battery cables remain connected.
The charging cable connections are located in the motor compartment. The ground point (-) is always located on the vehicle body.
Switch off the ignition and all electrical equipment.
Open the hood.
Press the release lever on the positive terminal and fold the cover upward.
Clamp the terminal clamps on the charger correctly onto the positive terminal (+) and the ground point (-).
Insert the power cable for the charger into the socket and switch the charger on.
At the end of the charging process, switch the charger off and pull the power cable out of the socket.
Remove the charger terminal clamps.
Close the cover on the positive terminal.
Close the hood.
WARNING
Tips
Read all of the manufacturer's instructions for the charger before charging the battery.
READ NEXT:
Fig. 163 Motor compartment: washer fluid reservoir cap The windshield washer reservoir contains the cleaning solution for the windshield/rear window* and the headlight washer system. The reservoir c
General information Check your tires regularly for damage, such as punctures, cuts, cracks, and bulges. Remove foreign objects from the tire tread. If driving over curbs or similar obstacles,
SEE MORE:
The purpose of this repair manual is to provide service advisors and technicians with the basic knowledge needed to ensure professional and competent procedures. Note Only the careful study of this documentation, practical implementation of the information contained, training on A/C syst
Component Location Overview - Sound System, Speaker, Sedan 1 - Left Front Treble Speaker -R20-/Right Front Treble Speaker -R22-, 8RM, 9VD - Left Front Midrange Speaker 2 -R276-/Right Front Midrange Speaker 2 -R277-, 9VS Removing and installing. Refer to → Cha