Audi A4: Cup holders
Applies to: vehicles with cup holders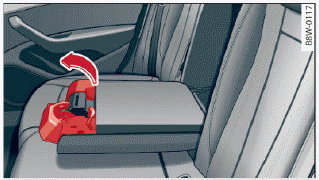 Fig. 75 Rear center armrest*: cup holders
Depending on vehicle equipment, your vehicle may have cup holders in the front center console and in the rear center armrest.
Cup holders in the rear center armrest*
Fold the center armrest* downward.
To open the cup holders, pull the top cover on the cup holders forward > fig. 75.
To close the cup holder, fold the cover back until it clicks into place.
WARNING
Note
Beverage containers in the cup holders should always have a lid. Otherwise, the liquid inside could spill and cause damage to vehicle equipment.
Storage and compartments
Storage area behind the rear head restraints
Applies to: vehicles with storage area behind the rear head restraints
The storage area can be used to carry light pieces of clothing.
WARNING
The storage compartment must not be used to transport heavy objects, hard objects, or animals. Such objects endanger vehicle occupants and increase the risk of injury during sudden driving or braking maneuvers or in an accident.
Note
Make sure that the heating grid strips for the rear window defogger are not damaged by abrasive objects.
Tips
To ensure the ventilation functions correctly, the ventilation slots between the rear window and the storage area must not be covered.
Other storage locations
Depending on vehicle equipment, there are a variety of storage areas, compartments, and retainers, such as the glove compartment, for safely storing and securing objects.
WARNING
To reduce the risk of injury, make sure all storage compartments are always closed while driving.
Loose objects can be thrown around the vehicle interior during sudden driving or braking maneuvers, which increases the risk of an accident. Store objects securely while driving.
Only use the storage compartments in the door trim panels to store small objects that will not stick out of the compartment and impair the function of the side airbags.
Due to strength reasons, only secure objects up to 11 lbs (5 kg) with the straps in the luggage compartment. Heavier objects are not adequately secured. There is risk of personal injury.
Only lightweight clothing should be hung from the garment hooks in the vehicle. Do not use clothes hangers to hang clothing.

The pockets of the clothing must not contain any heavy, breakable, or sharp-edged objects. This could impair the effectiveness of the side curtain airbags.

Make sure your view toward the rear is not blocked, for example by hanging clothing or objects in the vehicle.
READ NEXT:
General information All pieces of luggage or objects must be securely fastened in the luggage compartment. Note the following to maintain good vehicle handling: Distribute the load evenly in the lug
Applies to: vehicles with power luggage compartment cover Fig. 76 Luggage compartment: retracted cover Fig. 77 Luggage compartment: removing the luggage compartment cover Observe the safety precauti
SEE MORE:
Special tools and workshop equipment required Vehicle Diagnostic Tester Torque Wrench 1783 - 2-10Nm -VAG1783- Removing Note To avoid a crooked steering wheel, the steering wheel must not be turned and the straight-ahead position or angle of the front wheels must not be changed when t
Specified Values for the Refrigerant Circuit Pressures Note Connect the Air Conditioning (A/C) service station. Refer to → Chapter "A/C Service Station, Connecting". Observe the test requirements. Refer to → Chapter "Pressures, Checking". - With the ignition switched