Audi A4: Fuses
Replacing fuses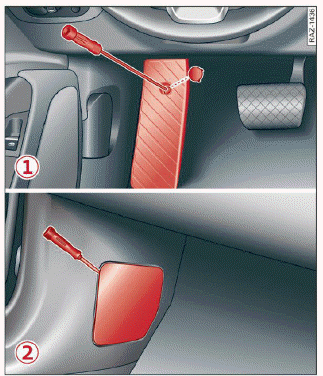 Fig. 181 Driver's side footwell (left-hand drive vehicles): footrest 1, front passenger's side footwell (right-hand drive vehicles): cover 2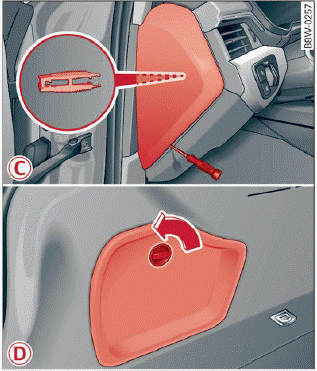 Fig. 182 Driver's side cockpit (left-hand drive/right-hand drive vehicles): cover (C), left side of luggage compartment: cover (D)
Fuses are installed in various locations in your vehicle.
The following information only lists fuses that you can change yourself. To have other fuses changed, contact an authorized Audi dealer or authorized Audi Service Facility. The following table does not list fuse locations that are not used.
A fuse that has blown will have metal strips that have burned through.
The fuses are located in the footwell under the footrest (left-hand drive vehicle) (1) or behind the cover (right-hand drive vehicle) (2). Additional fuses are located on the front side of the cockpit (driver's side) (C) and under the left cover in the luggage compartment (D).
Switch the ignition and all electrical equipment off.
Check the table that follows to see which fuse belongs to the affected equipment.
Remove the screwdriver and the reversible Torx bit from the vehicle tool kit.
Remove the footrest or the corresponding cover.
Remove the colored plastic clip from the fuse panel, if necessary fig. 183.
Remove the clip from the rear side of the cover (C).
Remove the fuse using the clip.
Replace the blown fuse only with a fuse that has the same amp rating.
Reinstall the plastic bracket, if present.
Reattach the footrest or the cover.
Fuse color identification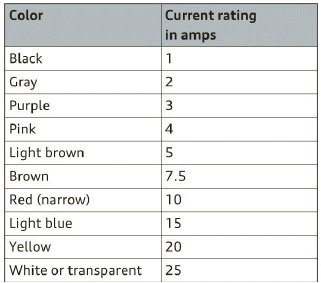 WARNING
Do not repair fuses and never replace a blown fuse with one that has a higher amp rating.
This can cause damage to the electrical system and increases the risk of fire.
Note
If a new fuse burns out again shortly after you have installed it, have the electrical system checked as soon as possible by an authorized Audi dealer or authorized Audi Service Facility.
Tips
Some of the equipment listed in the following tables applies only to certain model versions or certain optional equipment.
READ NEXT:
Fig. 183 Driver's footwell (left-hand drive vehicle): fuse panel with plastic clip Fig. 184 Front passenger's footwell (right-hand drive vehicle): fuse panel with plastic clip Fuse panel (A) (brown)
SEE MORE:
General information Applies to: vehicles with Audi connect Infotainment and online radio You can listen to various radio stations or podcasts on the Internet using online radio. Requirement: the MMI must be connected to the Internet. A data plan must be available. Accessing online radio through the
The tachometer (1) displays the engine speed in revolutions per minute (RPM). The beginning of the red zone in the tachometer indicates the maximum permissible engine speed for all gears once the engine has been broken in. Before reaching the red zone, you should shift into the next higher gear, sel