Audi A4: Clamp on Triple Roller Joint and Outer Joint, Tensioning

Note
Depending on the version of the clamp, use the following tools:
Special tools and workshop equipment required
Torque Wrench 1331 5-50Nm -VAG1331-
Clamping Pliers -VAG1682A-
Locking Pliers -VAS6199-
Tension the Stainless Steel Clamp using the -VAG1682A-.
- Attach the -VAG1682- as shown.
The jaws on the pliers must be centered -arrow- on the clamp -2-.

Note
The spindle threads must turn easily. If necessary, coat with MoS2 lubricating grease.
If difficult to tighten, for example because of dirty threads, the proper clamping force of the clamping sleeve will not be reached even when tightened to the specification.
- Tension the clamp by turning the spindle -1- with the torque wrench. Do not tilt the clamping pliers during this.
Tightening specification: 20 Nm.
Tension the Clamp with Retaining Tabs using the -VAS6199-.

Note
To better position the internal multi-point bolts when installing the drive axle, the clamp crimping ear -2- must be between the joint connecting flanges -1-.
- Engage the clamp at the first catch by hand.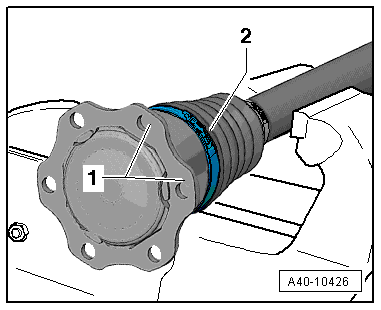 - Close the clamp using the -VAS6199--2-.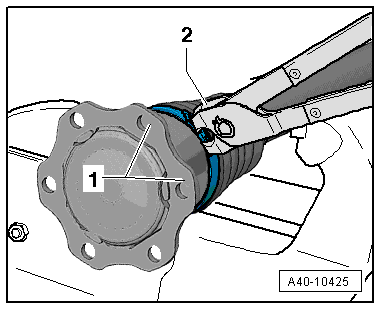 READ NEXT:
Special tools and workshop equipment required Shock Absorber Set -T10001- Tensioning Strap -T10038- Tripod Joint Tool -T10065- Engine/Gearbox Jack Adapter - Wheel Hub Support -T10149-
SEE MORE:
Special tools and workshop equipment required Pry Lever -80-200- Removing - Remove the center armrest. Refer to → Chapter "Center Armrest, Removing and Installing". - Remove the cushion cover for the center folding backrest. Refer to → Chapter "Center Folding Backrest C
Seat Belt Latch, Checking - Insert the belt tongue into the seat belt latch until it clicks into place. Check whether the locking mechanism is properly engaged by giving the seat belt webbing a firm jerk. Replace the entire seat belt with the seat belt latch if the belt tongue fails even o