Audi A4: Outer CV Joint, Checking
It is necessary to disassemble the joint whenever replacing the grease or if the ball surfaces show wear or damage.
Disassembling
- Mark the position of the ball hub -2- to ball cage -3- and to housing -1- before disassembling, using an electric engraver or grindstone.
- Tilt the ball hub and ball cage.
- Remove the balls one after the other.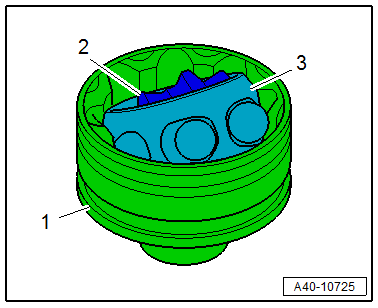 - Turn the cage, until two rectangular windows -arrow- rest on the joint housing.
- Lift out cage with hub.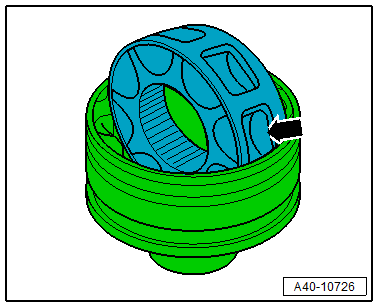 - Tilt the hub segment with shorter pins into rectangular window on the cage.
- Fold hub out from cage.
Checking
The balls for each joint belong to one tolerance group. Check the axle stub, hub, cage and balls for small depressions (pitting build-up) and chafing. Excessive backlash in the joint is noticeable by a thump during load alternations. The joint should be replaced in these cases. Flattening and running marks on the balls are no reason to replace a joint.
Assembling
- Insert cage with hub into joint body.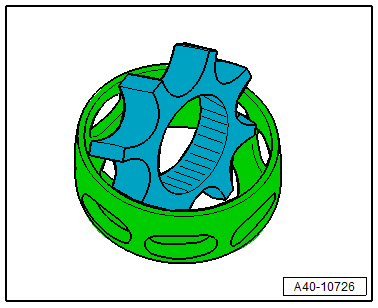 Note
Cage must be inserted on the correct side.
- Press in the opposite facing balls one after the other, and the old ball hub position to the ball cage and to the joint housing must be replicated.
- Press the grease into the joint body.
READ NEXT:
Note Depending on the version of the clamp, use the following tools: Special tools and workshop equipment required Torque Wrench 1331 5-50Nm -VAG1331- Clamping Pliers -VAG1682A- Locking P
Special tools and workshop equipment required Shock Absorber Set -T10001- Tensioning Strap -T10038- Tripod Joint Tool -T10065- Engine/Gearbox Jack Adapter - Wheel Hub Support -T10149-
SEE MORE:
Selecting the radio Fig. 148 Center display: FM station list Fig. 149 Center display: SiriusXM station list Depending on the vehicle equipment, the radio may support the FM, AM, and SiriusXM (satellite radio) frequency bands. Using the HD Radio receiver* also allows you to receive radio stations o
Note The Mechatronic remains installed. WARNING The system is under pressure. The electronic ATF pump must be deactivated every time before opening the transmission, and the hydraulic pressure reservoir is drained. Refer to → Chapter "ATF Pump, Deactivating and Draining